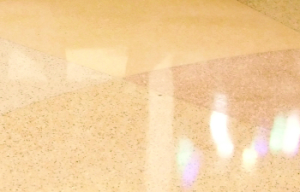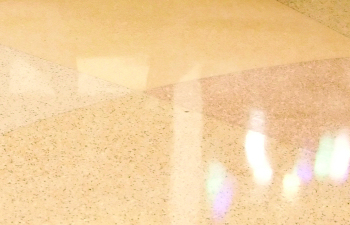 Terrazzo Cleaning, Polishing and Restoration
Northern Chicago / Lake Zurich
Terrazzo Restored
BiO Tile & Grout Restoration can return your old, dull terrazzo to its original (and sometimes) historic luster.
Terrazzo is a manufactured composite of natural marble chippings and or other durable aggregates set in a cement matrix with added color pigment.
In the 1970's polymer-based terrazzo was introduced and is called thin-set terrazzo. Initially polyester resins were used as the binder resin. Today most of the terrazzo installed is epoxy terrazzo.
Many terrazzo floors have been covered by carpet and tile over the years. Often, home and business owners remove the carpet and assume the terrazzo underneath is beyond restoration.
BiO Tile & Grout Restoration can bring terrazzo floors back to life. Terrazzo, when properly restored, is a beautiful, low-maintenance surface that is regaining popularity. You'll be surprised at how amazing your terrazzo floor can look, for a fraction of the cost of replacement.
---
Contact Us online or call (847) 438-0212 for a free estimate on terrazzo cleaning, polishing, repair and restoration services throughout Lake, Cooke, and McHenry Counties and surrounding Northern Illinois areas.