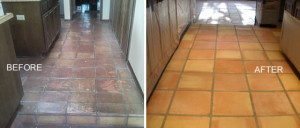 Northern Chicago / Lake Zurich
Saltillo, Mexican Tile & Terra Cotta Restoration
Saltillo tile is an unglazed clay floor tile made in Saltillo, Coahuila, Mexico. The tile is made from natural clay deposits from that region which is one of the finest natural clay deposits in the world. Briefly, this is the manufacturing process.
Clay is excavated from the earth
Clay is mixed with water
The wet clay is formed into tile shapes
The tiles are dried in the sun
The dried tiles are fired in kilns
BiO Tile & Grout Restoration can restore your old Saltillo tile to look new. When necessary we can remove sealer that has become scratched and dirty over time. Though Saltillo tile is a simple clay product, it can be most challenging to restore.
---
Contact Us online or call (847) 438-0212 for a free estimate on Saltillo, Mexican, and Terra Cotta Tile restoration services throughout Lake, Cooke, and McHenry Counties and surrounding Northern Illinois areas.