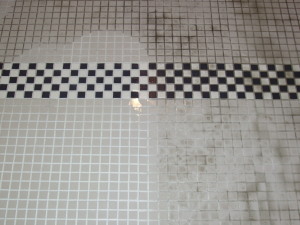 We will amaze you with our tile and grout cleaning
We are dedicated, experienced hard surface professionals. We don't push dirt around! We extract it from the surface!
Our truck mounted equipment was designed specifically to clean hard surfaces to provide sufficient heat and pressure to remove ground-in dirt out of even the roughest, most uneven surfaces. Our unit can produce both high heat (up to 230 degrees) and contained high pressure (up to 3000psi) simultaneously. Therefore, not only cleaning but also sanitizing the surface and the grout.
Benefits of our process:
Extracts Dirt – plus grime, oil and bacteria – doesn't just spread it around.
Cleans Entire Surface – tile, grout and baseboards. Textured tile, marble, travertine, limestone, slate, brick, concrete.
Sanitizes – up to 230 degrees water kills germs and bacteria.
Non Abrasive – will not scratch or damage polished, stained, painted or natural stone surfaces.
Extends Life And Protects – removes grout destroying acidity (winter salts, soils, grease) and with application of sealer, protects from them.
Saves Money – restores your tiles to like-new appearance, for fraction of the replacement cost.
---
Contact Us online or call (847) 438-0212 for a free estimate on grout cleaning and sealing services throughout Lake, Cooke, and McHenry Counties and surrounding Northern Illinois areas.